Sacramento Repipe & Plumbing

Increased Website Traffic By 196% And Is Being Booked Months In Advance!

Owner Dave of Sacramento Repipe and Plumbing exhibits the over two decades of plumbing service, repair, and repiping experience his company has had. Both residential and commercial consumers can make use of their plumbing expertise. Locally owned and operated for many years, it is a long-standing family business in the Sacramento area. 
They needed help with its SEO strategy to channel traffic, attract more potential customers and seal the deal. This study can act as a model for other firms that lack an online presence and wish to maximize their SEO results.
We provide realistic solutions that will assist them in gaining more clients and increasing brand awareness and sales conversions.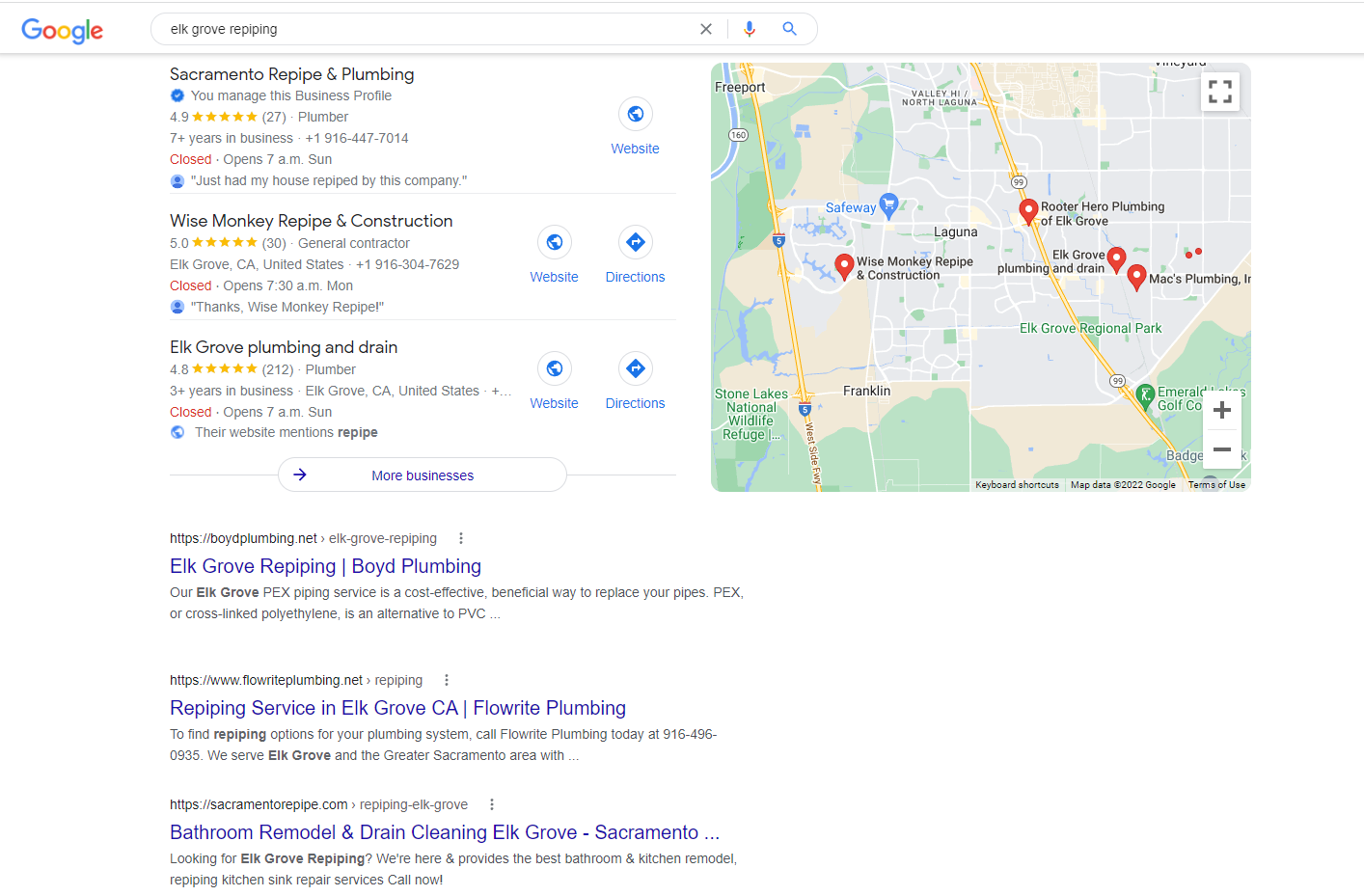 Even though they had created their website and were well-known in the neighborhood for plumbing services, they had never had a booking for more than a week. This resulted in revenue declines.
This is where Plumber SEOS came in to lend a helping hand. We concluded that, first and foremost, we wanted to boost their search engine visibility. Discover how our thorough SEO strategy assisted Dave is expanding his firm and more than doubling his profits.
We created a website for Sacramento Repipe and Pluming that is unique and entertaining, with content that is not a duplication or comparable to what is currently published on the web and satisfies the user intent. We ensured that it was SEO friendly, meaning that it contained content optimized for specific search terms and keywords and that search engines could read and understand. Naturally, it was thorough and well-written with current content, as no one, including search engines, wants to read outdated or irrelevant content.
Plumber SEOs, an SEO business specializing in plumbing, employs a specific system and approach to rank and bring Plumbing websites to the first page of search results. Plumber SEOs and Gary committed Dave that they would rank him for several places in which he provides services, allowing him to pick and choose which cities to service and get business from.
Plumber SEOS In-Depth Approach
The purpose of the content audit was to identify issues with the content and provide a plan for resolving them and enhancing performance. We conducted a content audit and discovered flaws with the site's layout, targeting, keyword usage, and overall lack of authority, contributing to Google's lack of trust. We recommended creating new pages, modifying current pages, and supplementing existing pages with more content. This aided them in making the necessary changes to optimize the website's SEO.
We conducted keyword research to identify terms that generated traffic but did not convert well and terms that generated high-value traffic. We developed a precise plan for which keywords will be targeted on each page using these insights. Our keyword research revealed an additional opportunity for the site to perform adequately for more service regions and particular services.
After conducting keyword analysis, we developed a content strategy outlining our goal for improving website traffic and conversions. Our conversion optimization widget was the centerpiece of this strategy. It provided visitors with a quick answer to their concerns while guiding them to the relevant page on the site. Additionally, we optimized pages throughout the site for the specified keywords and ensured that all necessary technical elements for optimal results were in place.
Finally, we needed to ensure that Dave received sufficient incoming links from industry-related websites. As a result, we spent time researching these online destinations. We then launched a link-building campaign using the new material created for Sacramento Repipe's website. We made an effort to ensure that the content we provided was entertaining and educational for others to share and link. This resulted in a rise in site traffic, search engine rankings, and reputation.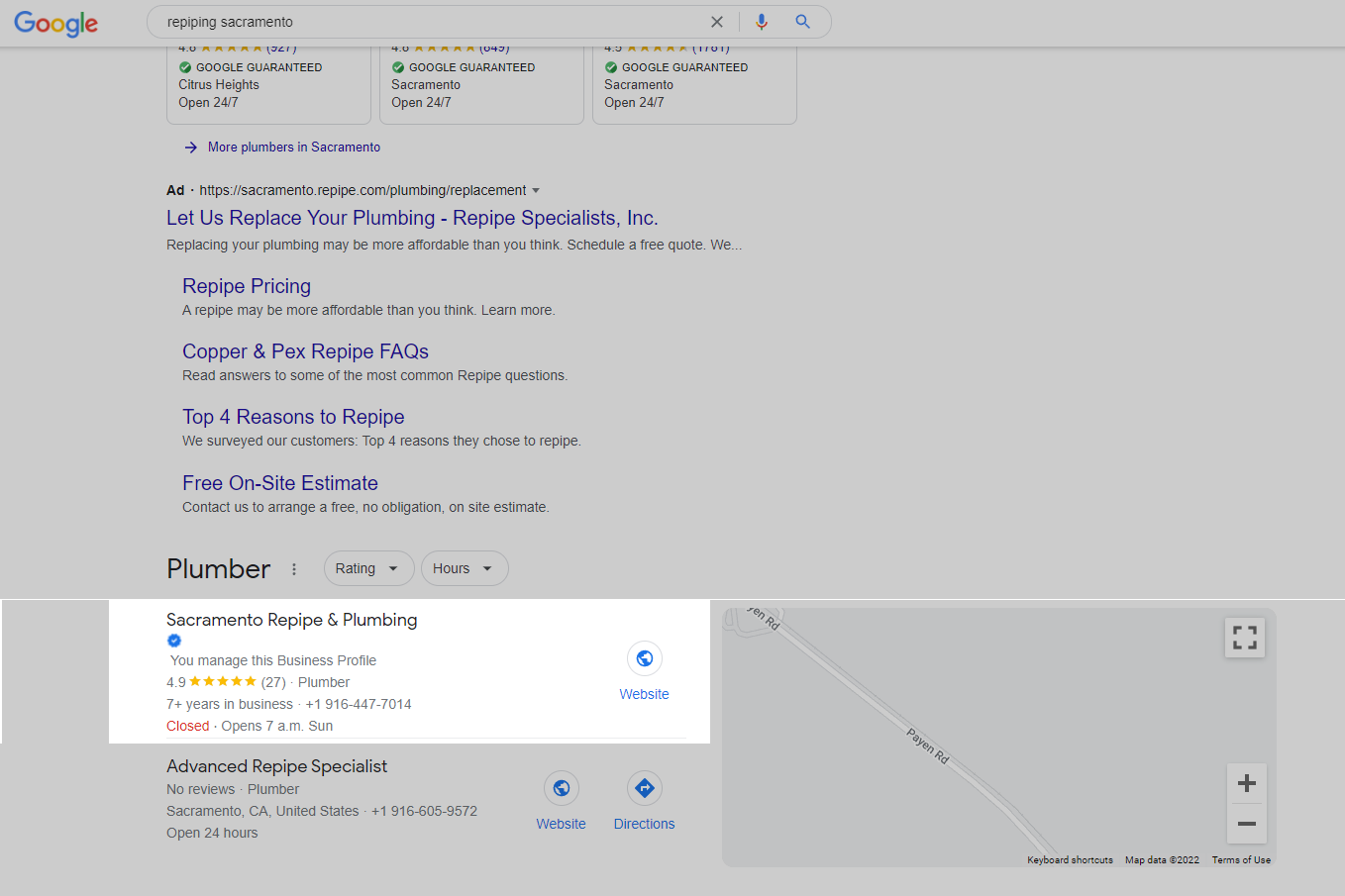 Sacramento Repipe and Plumbing saw a surge in internet traffic and customer phone calls. And they even provided a 24-hour contact center and callbacks on their website for that purpose. They moved ahead and added additional vehicles to service the entire Sacramento area, planning to grow soon. They had grown into a thriving plumbing firm taking on jobs at a rate they could not have imagined when they initially approached us.
There has been an astounding rise in website traffic of 196% in just a few days! Sacramento repipes and plumbing has risen to the top of the organic and Google Business Profile rankings for Sacramento and the surrounding areas.