New Flow Plumbing Van Nuys

Skyrockets Their Online Traffic and Gets More Calls

New Flow Plumbing is a professional certified plumbing company in Van Nuys and the surrounding Los Angeles areas that are family-owned and operated. They serve commercial and residential customers twenty-four hours a day, seven days a week. Arman, owner of New Flow Plumbing, and his team provide a comprehensive range of services, specializing in sewer camera inspection, sewer line repairs, and replacement.
New Flow Plumbing needed help with its SEO strategy to channel traffic into the greater Los Angeles area, and that's what this case study is all about. This can act as a model for other firms that lack an online presence and wish to maximize their SEO results.
We provide realistic solutions that will assist them in gaining more clients and increasing brand awareness and sales conversions.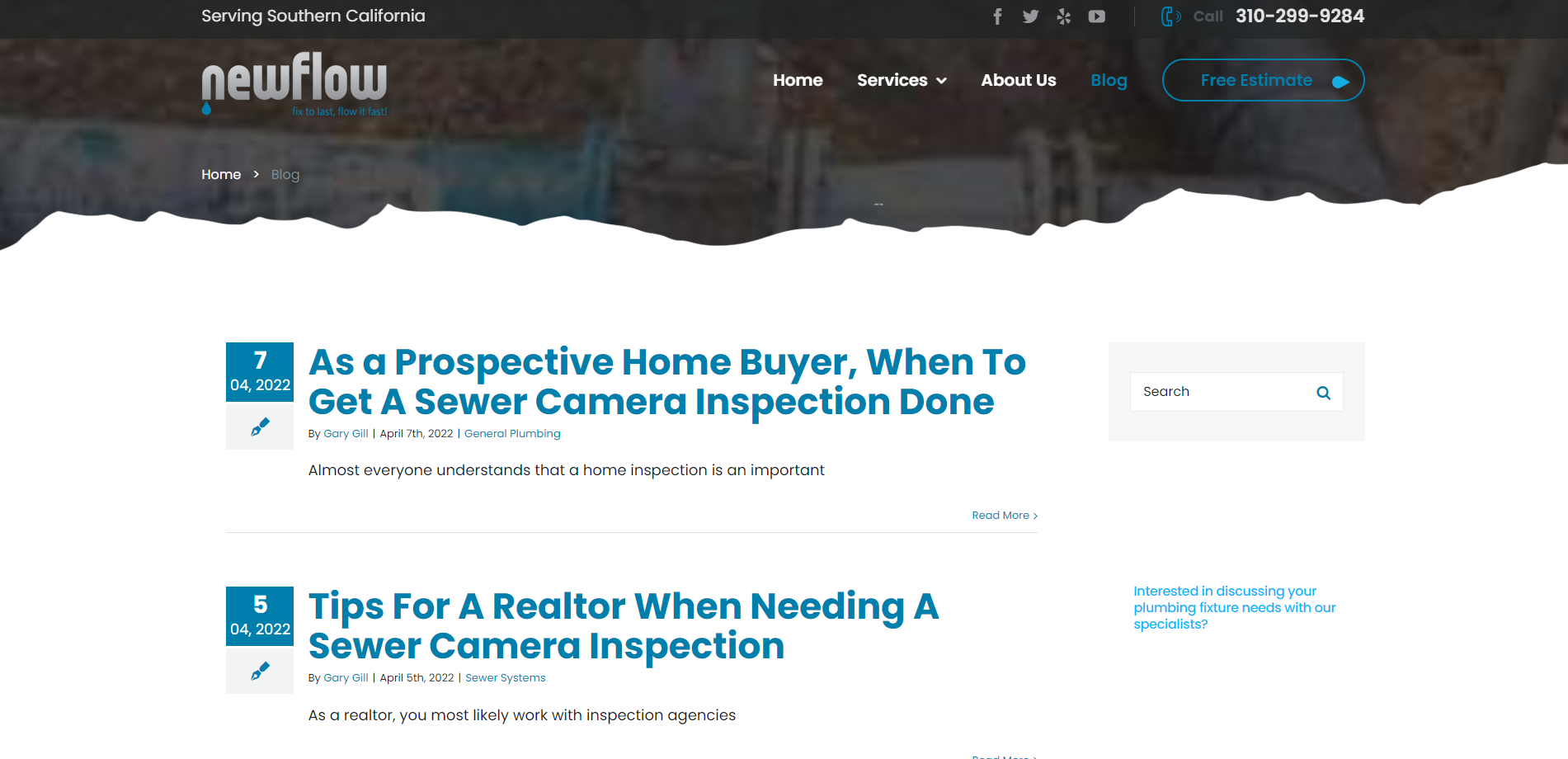 When New Flow Plumbing worked with multiple marketing agencies, they could not achieve their business goals. Arman recognized the importance of employing a strategy that addresses all parts of his website's search engine optimization requirements. 
New Flow Plumbing was competing with other plumbing companies that had a stronger internet presence in terms of the number of monthly searches. Their websites receive a significant amount of irrelevant traffic. As a result, they received fewer quality leads that would turn into customers. A lot of their business came from word of mouth, which meant a limit to how much they could grow organically without an effective SEO strategy in place. 
Plumber SEOS came to the rescue. Before we could do anything else, we realized that we had to improve their exposure in search engines. Utilizing powerful call-to-action strategies and relevant keyword research, we increase their conversion rate.
We knew it would be tough to create content that would bring in relevant traffic since there were no keywords ranked on Google yet, but we used our proven processes and came up with keywords that would help them rank first on Google. We also optimized the website's architecture to be more search engine friendly and deliver a better user experience for end-users. 
Our team created high-quality content based on our keyword research and optimized each page for those keywords to position New Flow Plumbing as an authority site. We ensure that their website will attract only relevant traffic from potential customers looking for plumbing services rather than just people gathering information about them.
Plumber SEOS In-Depth Approach
We began by auditing New Flow Plumbing's website content. The site wasn't lacking any major usability issues or errors, but several pages were not optimized for search engines. Most importantly, we found that many key terms were being used that had nothing to do with plumbing services — or even plumbing at all! The audit revealed that the client was not targeting keywords relevant to their business. This meant that their site generated traffic, but most of it did not convert into leads because it wasn't relevant to them.
After reviewing the current rankings, we began researching and evaluating new keywords that fit the goals of New Flow Plumbing. Our keyword research process helped identify highly relevant terms aligned with their target audience's search intent. We also looked at the local competition and analyzed what keywords they were targeting, which helped identify areas with low competition but high traffic potential.
Once we've chosen our list of keywords, we need to develop a content strategy that would best fit our audience's needs and help us rank higher on Google. The content strategy is the key since it will drive relevant people to your website, which will help you generate leads and sales and boost your revenue in the long run. Our blog postings addressed the most prevalent plumbing issues that people encountered and the remedies we came up with for each of them.
To get more sales, you first need to drive traffic to your website, and one of the best ways is through link outreach. That means getting those high-quality links from other websites backlinking back to yours. Link outreach is one of the most important SEO practices because it helps you rank higher on Google and builds your domain authority, which is crucial for ranking well on search engines.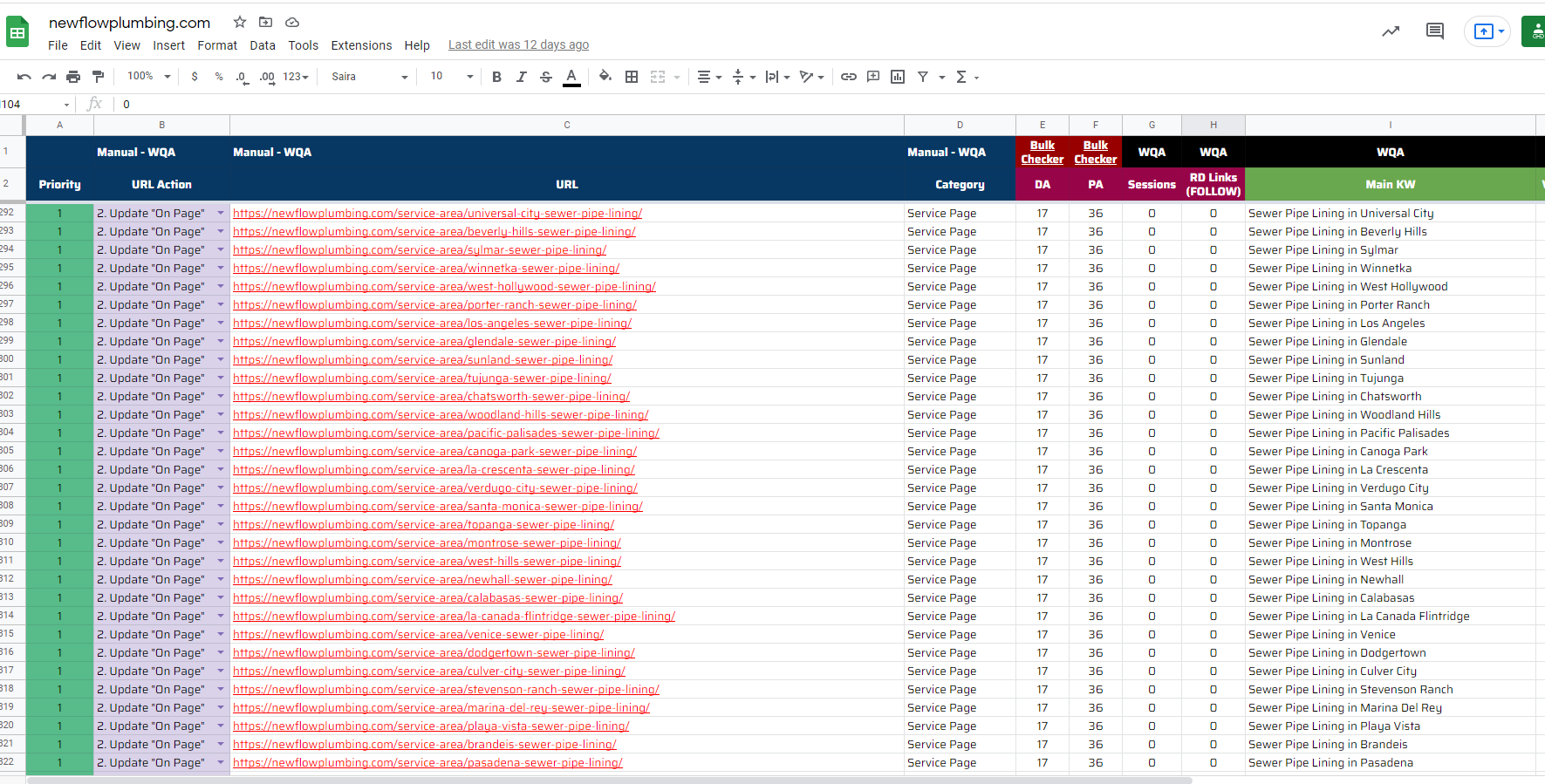 Before working with Plumber SEOs, New Flow Plumbing Van Nuys was not ranking on search engines because of having irrelevant traffic in their content. Now, they're ranking at the top of search engine results pages for many keywords related to their services and location in Van Nuys and surrounding areas in Los Angeles. 
They have been able to increase their sewer line services to a wider area, and they look forward to continuing expansion due to this successful cooperation. Having us take care of their website has allowed them to concentrate on running their business while still maintaining an online presence.