Langley Home Plumbing

Grows At A Breakneck Pace, Receiving Over 200 New Calls Per Month
Gary Bregani, the owner and head plumber of Langley Home Plumbing, has over 30 years of expertise in the plumbing industry. He desired to establish a plumbing firm that provided open, honest, and beneficial services to Langley, British Columbia residents. 
After several years of slowly building the business by word of mouth and referral traffic and paying a lot of money to Angie's List, he became irritated with the site's lack of organic traffic. Without it, their company strategy would have failed to grow. 
They recruited us with one specific objective: to discover a sustainable method of acquiring new plumbing tasks each month, whether it's hot water tank replacements, boiler repairs, or drain cleaning.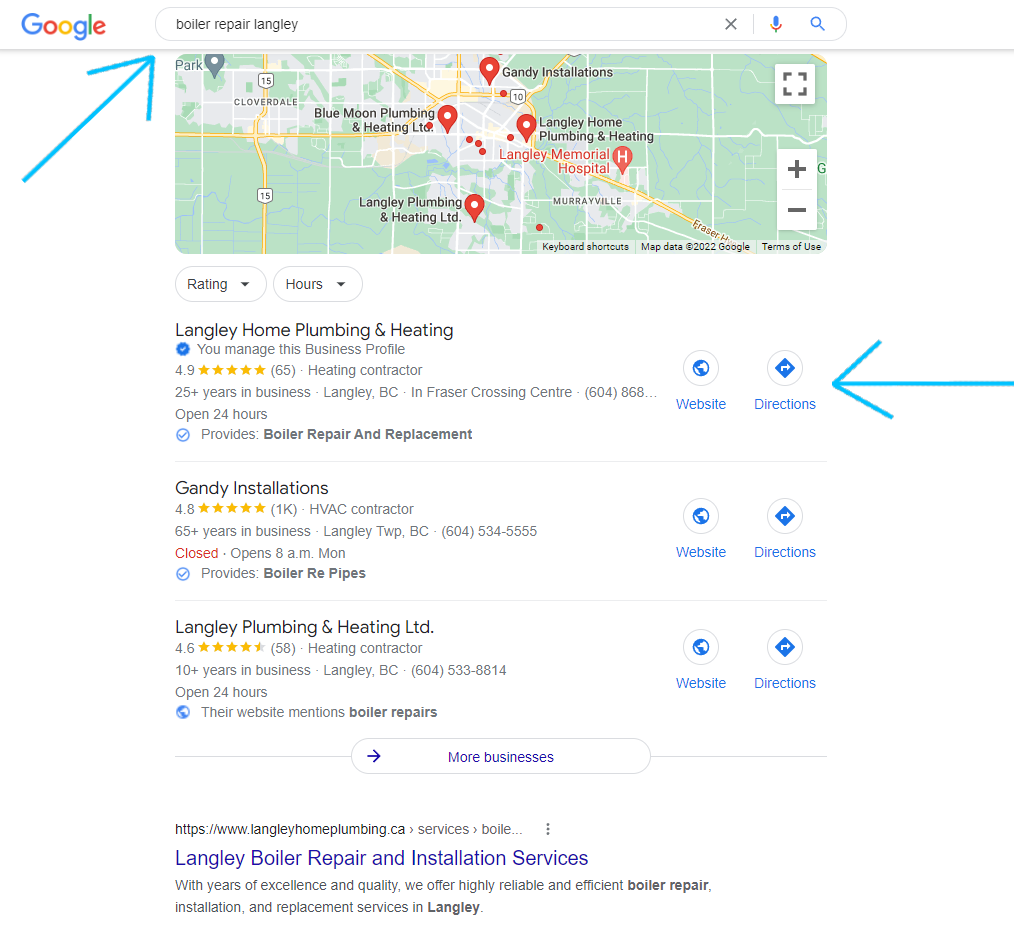 A simple Google search is one of the simplest ways to locate a plumbing firm. Without being discovered, it is nearly impossible to scale the practice sustainably.
Gary saw that they couldn't continue relying on word of mouth or paying Angie's List for recycled leads monthly if they wanted to develop.
He also understood he didn't want to waste unaccountable funds on radio and television advertisements, which are notoriously tough to track in a saturated industry.
Our first plan was to boost Langley Home Plumbing's search engine ranks and visibility by enhancing their on-page and off-page SEO.
We took a key step to do a thorough review of their website, which allowed us to identify any technical issues that were lowering their search engine rankings. Langley Home Plumbing's backlinks and local citations were promptly worked on by our SEO professionals, and their website was optimized for higher search engine rankings.
So that Google would recognize Langley Home as a top Langley plumbing firm, we worked with Gary to identify these issues and fix them. Google My Business profiles were also optimized to the max to be quickly accessed using Maps (people will see their business on the map first!).
Langley Home Plumbing's content has already been optimized, so our next step was to make it more search engine friendly. We also helped them write high-quality blog posts that were useful to their target audience. Because of this, he rose in the search results and gained the trust of his potential clients.
Plumber SEOS In-Depth Approach
While the site already included a wealth of useful content, it was not working to its full potential. Our content audit identified formatting, targeting, and keyword usage concerns, as well as an overall lack of authority, indicating that Google did not trust the site. We devised a strategy that would assist in revealing the site's flaws and strengths.
We scanned the top-ranking sites that showed up on the first page for a plumber in Gary's city Langley and nearby areas. Using our 'keyword gap analysis' tool, we identified an additional 1.0k in monthly search volume hyper-relevant to the site's audience, such as hot water tank replacements in Surrey, Burnaby, Vancouver, and White Rock.
It is not as fundamental as simply producing articles with relevant content and loading them with keywords. You'll need a well-thought-out strategy to guarantee that each page is effectively targeted, communicates with the right audience, and generates consistent traffic. We developed a content strategy that detailed all of Gary's services and communicated to the audience that once potential patients arrived on the site, they had a far better chance of becoming a customer.
The final component of the jigsaw was acquiring a consistent flow of inbound links from respectable websites. We began our link-building strategy with the goal of obtaining links from authoritative home improvement and plumbing websites. Due to the improved quality of the material we created for the site, obtaining links via outreach was also a much easier procedure.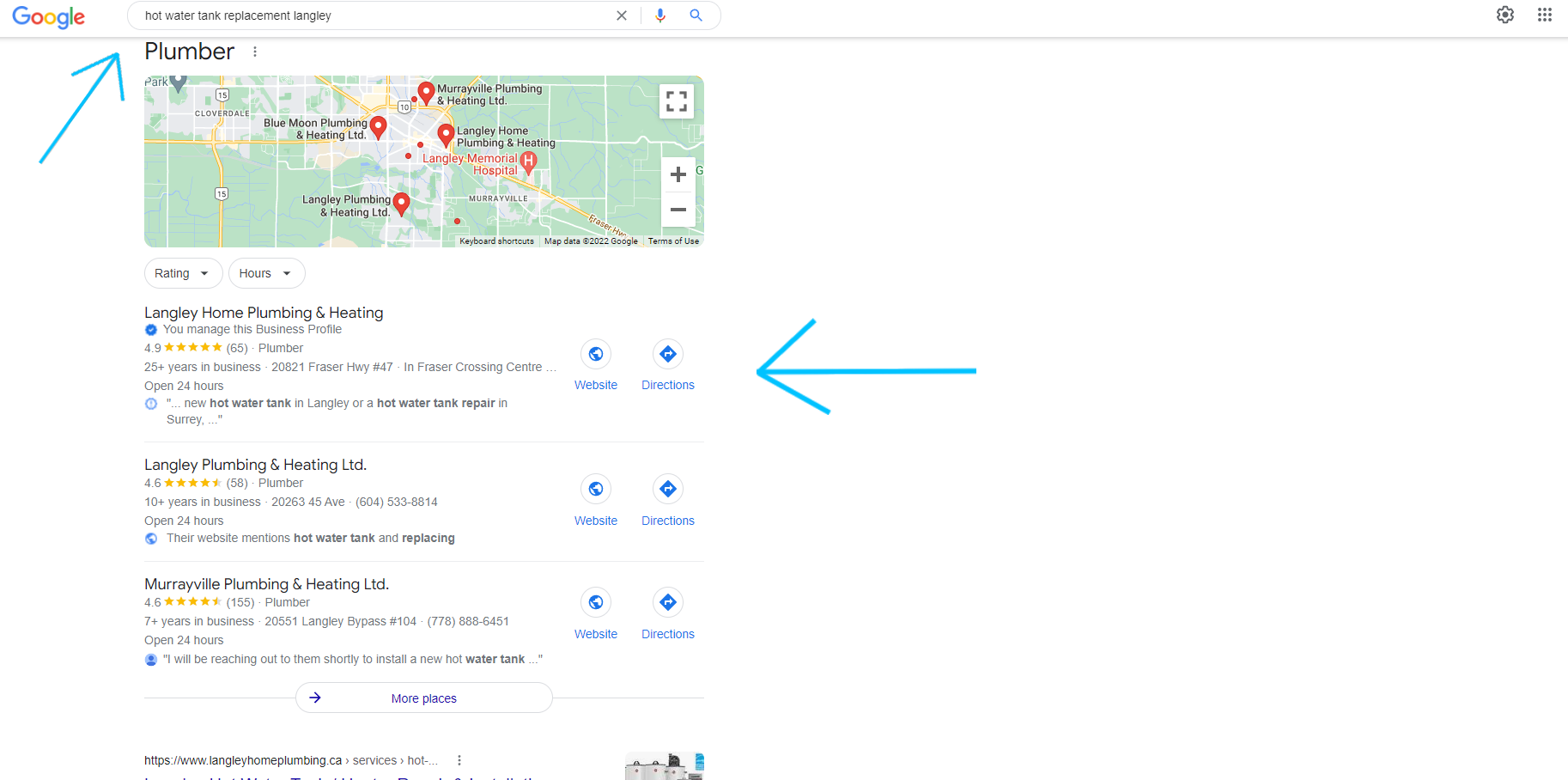 Langley Home Plumbing's name is now prominently displayed at the top of Langley's search results for every relevant keyword. More than 200 additional calls a month are coming in because of their increasing online traffic.
As a result of this successful partnership, they have been able to expand their service area and service alternatives. This has led to an expansion of their crew, which has resulted in more employment prospects for members of their local community.
With us managing their website, they can focus on running their business while still maintaining an online presence.