Gray Plumber

Gets Over 150 Calls Per Month And Now Ranked As #1 For Plumber In Fairfield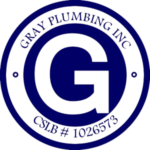 Jeffrey, the owner and chief plumber at Gray Plumbing, has over 17 years of expertise in the plumbing industry. Jeffrey's goal was to establish a plumbing firm capable of providing consumers in the bay area with prompt, professional, and pleasant service. 
Jeffrey established this business by being an exceptional craftsman and growing the team through word of mouth and referrals, in addition to other standard advertising methods. And while this worked well in the beginning, Jefferey found himself falling behind the competitors in today's digital environment.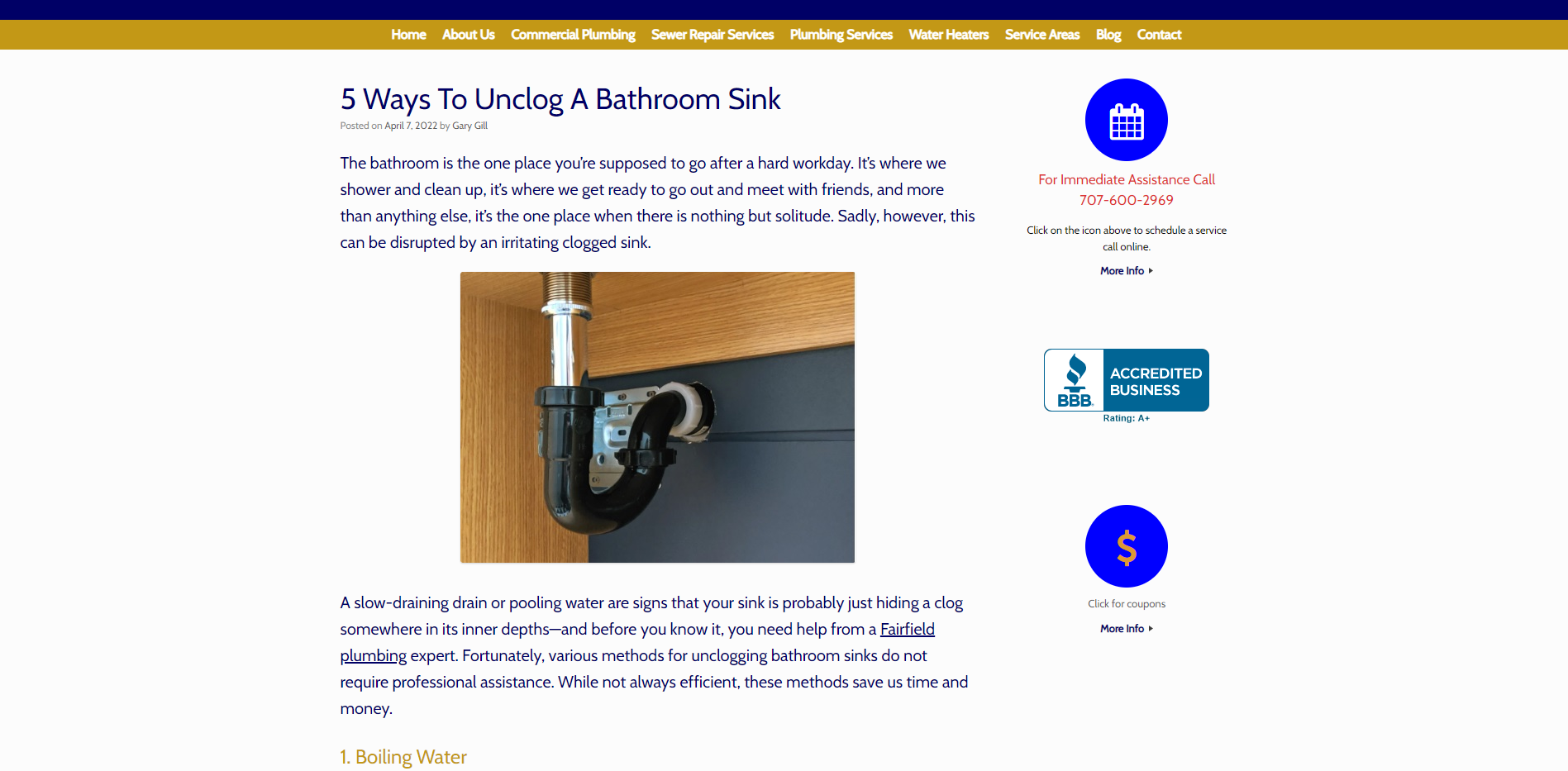 Clients no longer need to connect with traditional advertising methods in order to make an informed choice of a plumber. All the customer has to do is search for the problem in conjunction with the location and then select the first business that appears on the search page. Any firm that is not on this page will have a difficult time growing or achieving sustainable outcomes.
Jeffrey and his crew recognized that expansion required a method of advertising that was more constant than word of mouth or other traditional methods. They required a strategy of acquiring new leads and customers that was scalable and sustainable.
At Plumber SEOS, we are committed to applying world-class SEO techniques and methodologies to rank and ensure that plumbing systems such as Jeffrey Gray plumbing appear on the first page of search results.
Our objectives were to cut through the clutter of all the other plumbing companies in the area and propel our client to the top of Google for the service areas which they provided.
In order to help Jeffrey Gray rank highly not only in their own community but also in neighboring communities where they could potentially gain new business, the team at Jeffrey Gray asked us to develop and implement SEO methods that would help them rank highly not only in their own community but also in neighboring communities where they could potentially gain new business.
Plumber SEOS In-Depth Approach
After doing a thorough assessment of the content Jefferey Gray had previously utilized, we determined that, while the content was excellent, it lacked some essentials necessary for it to be a source of new consumers for the company. The majority of the content was not formatted properly, lacked targeting, and made ineffective use of keywords. These shortcomings, along with a lack of authority, resulted in widespread site skepticism. Simply put, Google did not trust the site to give meaningful information to users and assigned it a low ranking.
This is a vital component of our search engine optimization strategy. By determining the keywords that a customer uses to make a decision, we may create content around those words or phrases, allowing our material to rank well. We tracked the terms that people used when they wanted to make a decision about their plumbing needs for Jeffrey Gray.
Today's prevalent misperception regarding written content is that it is exclusively composed of words. The best content strategies are well thought out in advance, and their impact is typically noticed over the course of several articles. Our content strategy for Jeffrey Gray plumbing included conveying their narrative in a way that reflected the ideals that have driven the company forward for over 17 years. These stories would persuade any potential site visitors.
This is the concluding component of the puzzle. To guarantee that Proline received an equal amount of inbound links from relevant sites, we spent time identifying sites that functioned in the company's vertical. Following that, we launched a link-building campaign based on the newly created content for the site, which resulted in an increase in business leads.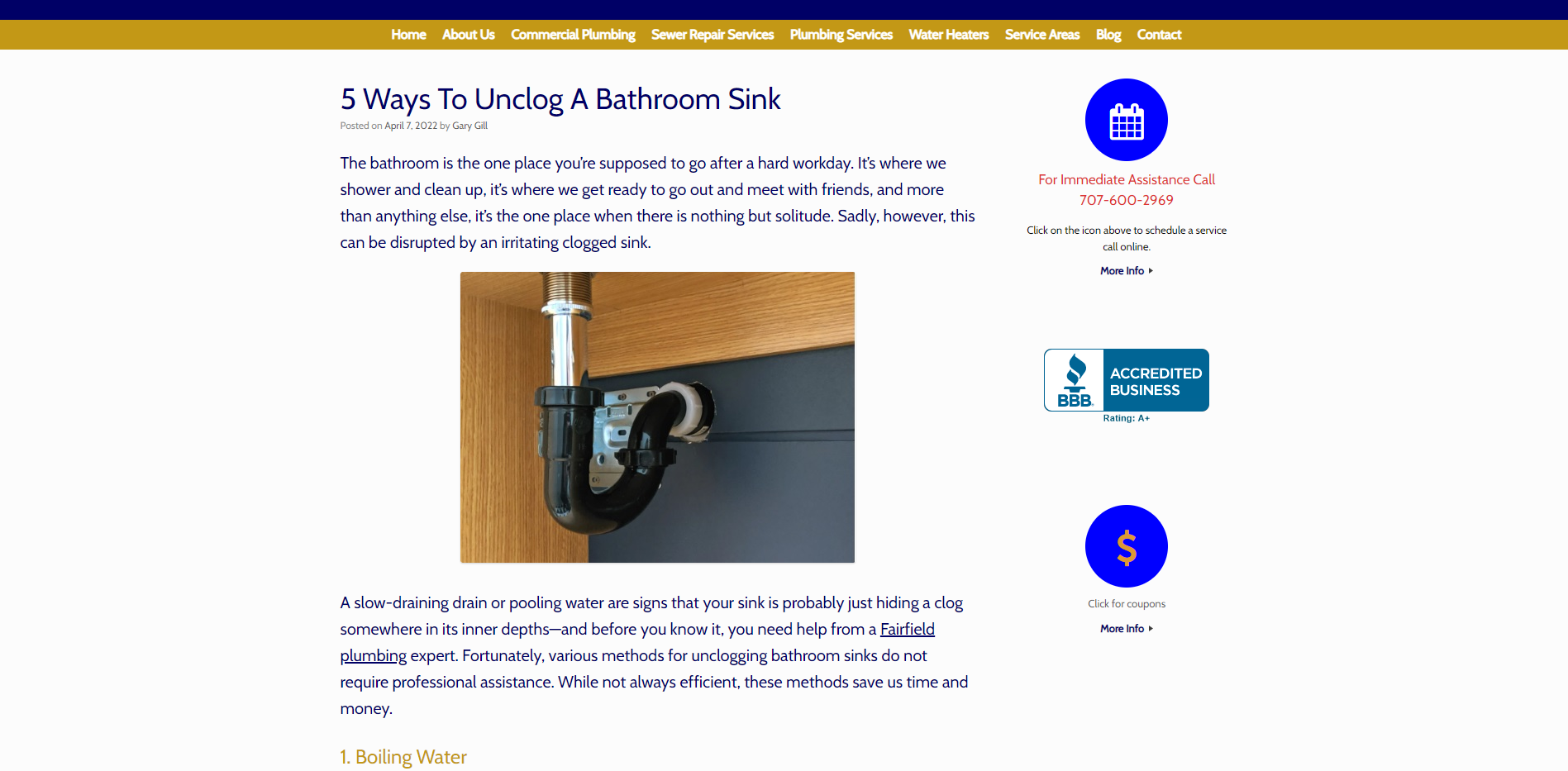 Gray Plumbing is now recognized as the go-to plumbing firm throughout Fairfield, Napa, Yountville, and the neighboring areas. Previously, they received just 30-40 calls every month, but now they receive more than 150 calls per month. They have also increased their operations and services. For the record, Gray Plumbing is the most well-regarded and #1 plumber in the Fairfield area.